ABOUT PET GROUP
WHO WE ARE
• WE ARE THE PREMIER EQUIPMENT&TECHNOLOGY JOINT STOCK COMPANY - THE PET JSC., is a short name, established in 2006 in Hanoi. The company is wholly import, sell and do after sales services for equipments, spare parts, tyres and lubricants.
• The company is a joint stock model, the ownership is private that it helps company to run powerfully, dynamically and proactively in decision making.
• Currently, we have a sales network in whole of Vietnam, the customer base is the general construction, coal mines, cement plants and quarries.
• We do concentration on high-end quality products and directly order from manufacturers.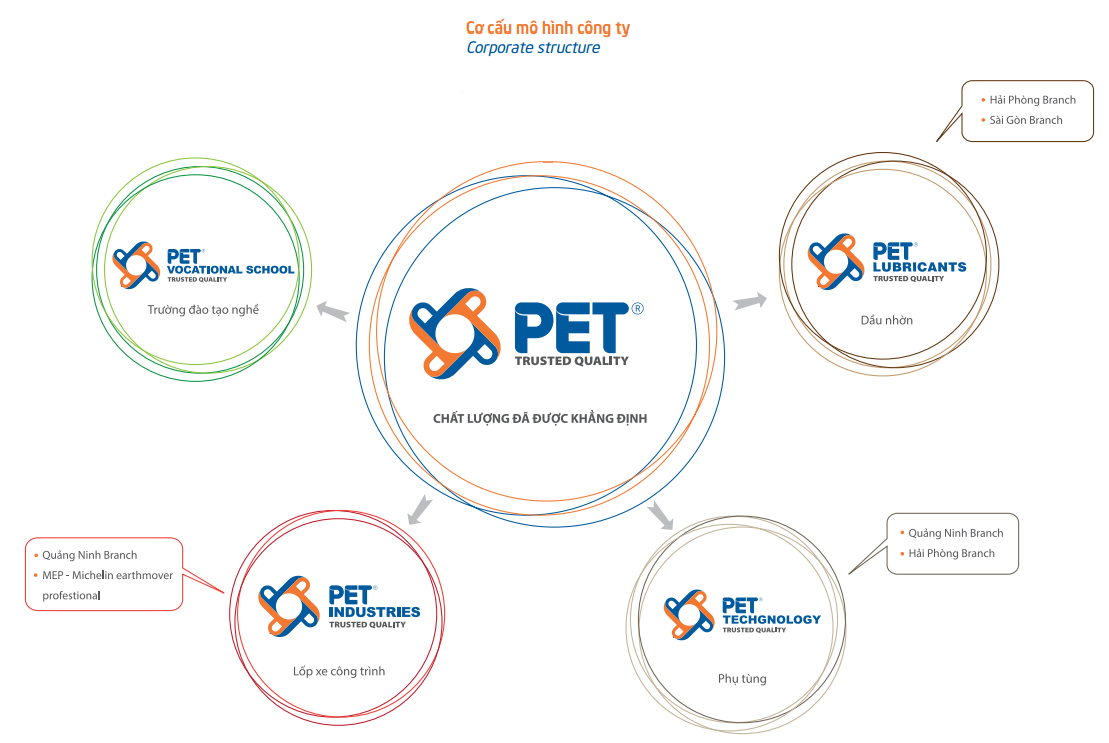 WHAT WE DO
I. SPARE PARTS:
Engine components, hydraulic pums, friction materials, brake system, clutchs…etc. for heavy duty dump trucks and all spare part for car and mini buses.

Undercarriages such as: track chain, shoes, roller, idlers, sproket for excavators and bulldozers
II. OTR TYRES: Michelin, Continental
III. LUBRICANTS: Commercial, Industrial and Motorcycle oils.
COMPANY CAPABILITIES
• A good warehouse network: we have three warehouses, one is in Hanoi, one is in Hai Phong (center) and one is in Quang Ninh. This network is controlled by computer system.
• Head office in Hanoi and two branches in the North of Vietnam, one is in Hai Phong, the other is in Quang Ninh.
• A very good sales&technical team to cover the after sales services for business of spare parts, tyres, lubricants and machines.
• Technician team in each location (Hai Phong&Quang Ninh) to do machine sevices at project sites, these points meet any requirement and any time to customers.
• Capabilities to set up/co-operate with any international supplier to develop a new brand in the Vietnam market.
• Good financial supports from share holders (a share holder from Vinacomin).
SALES NETWORK
• Currently, we have served nearly 700 customers and have devided by districts/location in the whole of Vietnam.
• We have coverged distributors, retail shops and end-users, all our customers have set up the frequency calls, visiting schedules and controlled by computer system.
• Our sales team trained about sales, technique and communication skills as well as credit control.
• We have educated customers/distributors about our products and have delivered a good technical supports to them.
PARTNERS
• We are a executive distributor of ENOC Lubricants in Vietnam, the manufacturer from Dubai-UAE.
• We are a sole distributor of Wellman Frictions in Vietnam, the manufacturer from USA.
• We are a sole distributor of Allied (AEC) engine components in Vietnam, the manufacturer from United Kingdom.
• We are strategic partner of USG products in Singapore, a company is very strong in supply for cutting edges, bucket tooth, undercarriages and engine components.
• We are a main distributor of Berco undercarriages in Vietnam, the manufacturer from Italy.
• We are a dealer of Best Tractors-dismantling heavy duty trucks in Vietnam, the company is from the Perth, Australia.
• We are a distributor for the B E Drillsupport- drilling tools in Vietnam, the company is from West Australia.
• We are a partner of Komatsu OEM Distributor from Japan.
• We are the first distributer of KHK – Japan in Vietnam